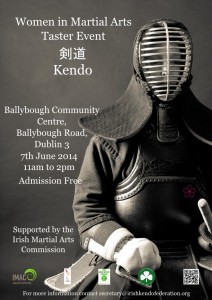 Kendo na hÉireann is holding a Women in Martial Arts Taster Event on Saturday 7th June. The event is free for all women and girls who want to try out kendo or iaido. On the day our instructors will introduce you to traditional Japanese sword arts as they are practiced today. You will have a chance to learn about the martial arts of the samurai!
In Kendo men and women of all ages practice together. Timing, precision and technique are more important than simple strength or force. Iaido is the traditional art of drawing the sword, it involves controlled smooth movements which must be done with grace and dignity. Both arts are perfectly suited to women looking for an unusual, challenging but fun way to keep fit and active while practicing a traditional martial art.
The event is part of the Women in Martial Arts programme run by the Irish Martial Arts Commission.